about Masahiro Hiroike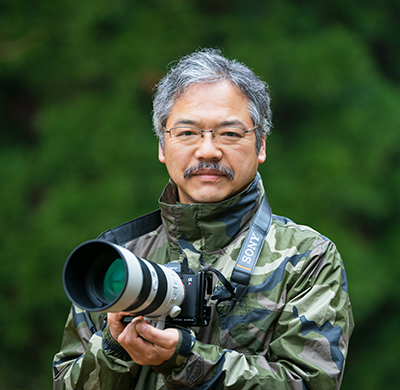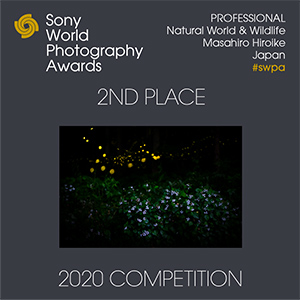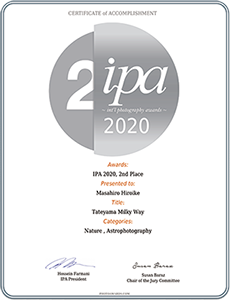 ---
Masahiro Hiroike was born in 1962. He is a system engineer and photographer who graduated from Tottori Prefectural Yonago Higashi High School and Hiroshima University Faculty of Engineering and currently lives in Tottori Prefecture, Japan.
He is qualified as a special information processing engineer and a first-class information processing engineer certified by the former Ministry of International Trade and Industry.
He joined Caterpillar Mitsubishi in 1985, and in 1992 he established a company that develops civil engineering-related systems and became independent.
He won the second prize in the national homepage contest in 1999, and then started web production and web system development as a business.
In 2005, he developed a slideshow display program for photographs using FLASH technology, and at the same time started photography in earnest.
【exhibition】
March 2021 Solo Exhibition Yonago City Museum of Art "QUEST-Quest for Beauty"<Details>
April 2021 Solo exhibition (planned exhibition) Hiroo Hiroo, Tottori Prefecture Nambu Encounter Hall "Masahiro Hiroike Photo Exhibition"
June-July 2021 Solo Exhibition (Special Exhibition) Nichinan Town Museum, Tottori Prefecture "Masahiro Hiroike Photo Exhibition"<Details>
January 2022 Solo exhibition Tottori Flower Park "QUEST"
April 2022 Solo Exhibition Pictorico Shop & Gallery (in front of Tokyo Kokugikan) <Details>
April 2024: A photo exhibition will be held at the Ilenya Gura Museum at the invitation of the Polish West Silesia Photographers Association.
[Publishing]
December 2019 Photobook "QUEST Vol. 1" published by Imai Publishing
July 2020 Published the photo book "HIME BOTARU" from Chiisana Imai


[TV appearance]
July 2022~ Chukai Television Broadcasting "Sanin Graphy"
[Awards]
2015 Olympus Open Photo Contest Grand Prix
2017 National Geographic Best of August 2017 (TOP10 of 150,000 photos)
2020 Sony World Photography Awards 2020 Professional "Natural World and Wildlife" 2nd place
https://www.worldphoto.org/sony-world-photography-awards/winners-galleries/2020-professional-competition-winners
2020 5th 35AWARDS (Russia) "Motion" 3rd place, "Night Landscape" TOP100
https://35awards.com/author/hiroike/
2020 IPA (International Photo Awards) Professional Nature-Astrophotography 2nd place
https://www.photoawards.com/winner/?compName=IPA+2020
2020 6TH Fine Art Photography Awards (London) NOMINEE x 3
2021 TIFA (Tokyo International Foto Awards) Silver x 1, Bronze x 2
2021 BNW Minimalist Photography Prize 2020 BEST 50 Photographers
[judge]
2022, He served as a judge (1 person each from 50 countries) for 7TH 35AWARDS (applications: 174 countries, 124,800 people, 480,500 works).
[Photographic Equipment]
Cameras: SONY α7R4, SONY α7R2, SONY α7R, CANON 6D
Lens: SONY FE 100-400mm F4.5-5.6 GM OSS, SONY FE 20mm F1.8 G, SIGMA 85mm F1.4 DG DN Art
SIGMA20mm F1.4 DG HSM, SIGMA 150-600mm F5-6.3 DG DN OS , TAMRON 28-75mm F / 2.8 Di III RXD
Filter: HAIDA M10 system
---
廣池 昌弘
1962 年生まれ。鳥取県立米子東高校、広島大学工学部卒。鳥取県在住のシステムエンジニア&写真家
旧通産省認定 特種情報処理技術者、第一種情報処理技術者
1985年 キャタピラー三菱入社 1992 年 土木関連のシステム開発を行う会社を設立して独立
1999年 全国的ホームページコンテストで2位受賞。WEB制作とWEB システム開発を事業として始める
2005年 FLASH技術による写真のスライドショー表示プログラム等を開発すると同時に写真を本格的に始める
【展示会】
2021年 3月 個展 米子市美術館「QUEST-美の探求」<詳細>
2021年 4月 個展(企画展)鳥取県南部町裕生出会いの館「廣池昌弘 写真展」
2021年 6月~7月 個展(企画展)鳥取県日南町美術館 「廣池昌弘 写真展」<詳細>

2022年4月 個展 ピクトリコ・ショップ&ギャラリー(東京 国技館前)<詳細>
2024年4月 ポーランド西シレジア写真家協会の招待で、イレニャグーラ博物館で写真展開催予定
【出版】
2019年12月 写真集「QUEST/探求 第1集」を今井出版より出版 
2020年 7月 写真集「HIMEBOTARU」をちいさな今井より出版
【TV出演】
2022年7月~ 中海テレビ放送「山陰グラフィー」
【受賞歴】
2015年 オリンパス・オープンフォトコンテスト グランプリ
2017年 National Geographic Best of August 2017(約15万枚中の10枚)
2020年 Sony World Photography Awards 2020 Professional "Natural World and Wildlife" 第2位
https://www.worldphoto.org/sony-world-photography-awards/winners-galleries/2020-professional-competition-winners
2020年 5th 35AWARDS "Motion" 第3位、 "Night Landscape" TOP100
https://35awards.com/author/hiroike/
2020年 IPA(International Photo Awards)Professional Nature-Astrophotography 第2位
https://www.photoawards.com/winner/?compName=IPA+2020
2020年 6TH Fine Art Photography Awards (London) NOMINEE x 3
2021年 TIFA(Tokyo International Foto Awards) Silver x 1 , Bronze x 2
2021年 BNW Minimalist Photography Prize 2020 BEST 50 Photographers
【審査員】
2022年 7TH 35AWARDS(応募:174ヶ国、124,800人、480,500作品) の審査員(50ヶ国から各1名)を務めた。
【撮影機材】
カメラ: SONY α7R4,SONY α7R2, SONY α7R, CANON 6D
レンズ: SONY FE 100-400mm F4.5-5.6 GM OSS, SONY FE 20mm F1.8 G, SIGMA 85mm F1.4 DG DN Art
SIGMA20mm F1.4 DG HSM, SIGMA 150-600mm F5-6.3 DG DN OS, TAMRON 28-75mm F/2.8 Di III RXD
フィルター:HAIDA M10システム